Services
Expand each to see detailed information on my various services
Initial consultation - $350

Are you ready to save time and make the right design decisions the FIRST time?

My initial consultation is like a crash course. You will get ALL of my knowledge from the past 25 years in the construction and design business!

This is for you if:
You have been thinking about remodeling and not sure where to begin or what it will cost (I can give you "ball park" numbers)
You want to DIY your own remodel project and need help choosing finishes
You are ready to sell your home and not sure what improvements will get you TOP DOLLAR
You need new paint colors. I will bring my LARGE paint samples and give you colors that will enhance your home finishes NOT the latest fads. I will look at all of your permanent finishes and analyze the undertones so you will choose the right color for your home-the first time!
You want to get your home decor out of another era and you've watched every HGTV show, "pinned" thousands of pictures on Pinterest and now your head is spinning!
You are ready to build a new home, but not sure where to begin or how to choose all of the finishes so it looks cohesive, custom and a space you will love
You give me up to 2 hours of your time I will give you:
New, fresh ideas that will be right for your lifestyle, family and budget for ANY of your home improvement projects
Specific paint colors (if needed)
A general plan of action to help you get focused with establishing a game plan on any home improvement project you may have
Need more after the consultation? No problem! I will talk about what the next steps are if you choose to work with me on your project.

Before our visit, I'll have you fill out a short survey
What my customers are saying:

"We thought it would be nice to have the help, but had NO idea how much time, effort, expense and stress she would save us! With her experience and great eye, we were able to pick out a gorgeous paint pallet for the whole house, granite tops, ideas on lighting, hardware and other touches that we didn't think of." -Jim & Nancy
Want to renovate your space but not sure where to start?

With 25 years of building and design experience I can renovate your project (large or small) with my team of skilled tradesmen, fabricators and installers!

It's all in the details:
Working with you to choose permanent finishes (i.e. flooring, lighting, counter tops, cabinets, paint and plumbing)
Handling daily issues and questions during the construction process
Ensuring all materials are ordered and delivered to the site and subcontractors arrive on time, notifying you if there will be a delay
Relieving the stress of the unknown while your house is under construction!
Prior to our first appointment, I will need to learn a little more about you and your project. Please click here for a short survey.

Step 1 – Required Consultation

This includes:
Meeting with you to learn about you and your project
Discussing your goals for your project
Working with you to set a realistic budget
Discussing a timeline
Step 2:  Proposal and Bid
Coming up with a working plan to bid your project (*construction drawings not included)
Meet with tradespeople on site to obtain bid proposals based on the scope of work
General ideas of finishes to get a realistic bid
Detailed bid and breakdown of the cost of your project
Bid includes materials and labor, project management fee and design fee for choosing permanent finishes.
** Prices for working drawings vary.  Some projects don't require drawings.  If they do, I will give you a price for completing the drawings.

Step 3: Let's begin:

Once I have given you the project proposal, we can discuss how to move forward with the project.  Or if necessary, we can tweak the numbers to fit your budget.
What my customers are saying:

"Because of Paula, we now have a beautiful, new master bathroom. She made our remodel a fun experience from start to finish. She made great suggestions and helped make decisions that we would still be stewing about. I would recommend her for any project and can't wait to be able to work with her again." - Joni & Joel
The investment for this service is a flat design fee based on the size and scope of your project, or blocks of time can time can be purchased.

For many homeowners, the sheer volume and complexity of decisions involved in pulling together a new home construction or remodeling project can be very overwhelming. One wrong decision and the process, along with costs, can spiral out of control or may cause major regret after the project is complete. With my 25+ years of experience, I can alleviate your stress, making the process fun and enjoyable - creating a home you will love!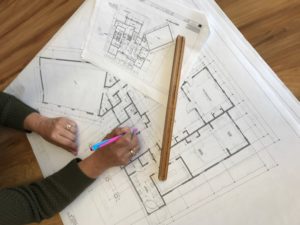 Services for new build or remodel:
Blueprint/Floor Plan review
Conceptual design meeting
Cabinet and kitchen design
Flooring choices
Plumbing selections
Bathroom & Kitchen finishes (layout, top, sink, backsplash)
Lighting - placement & selection
Hardware and door selections
Fireplace finishes
Paint colors
Exterior finishes
Stair parts and finishes
And more.....
Because every project is unique, I need to learn about your project and your needs before offering a quote. If you are interested in having me help you with any or all of these decisions and want to discuss your project, please complete this short survey.
What my customers are saying:

"Paula figured out very early on that I needed my selections narrowed down to help make my decisions on my new home. She helped keep the project manageable because I work and have three kids with crazy schedules. She thought about my family's needs now, and as they grow because we plan on being in this house a long time! Her contacts made it easier and she took the time to explain things and went above and beyond working with us on getting the plan just right. We had no clue as to what we needed when we started, from a design perspective and she guided us the whole way. She helped me choose everything from fixtures to paint colors!" -Traci
 

Whether you're a homeowner getting ready to sell or a real estate agent working with a client, you want to present a home in its best possible light. A well staged home sells 3 times faster and for 6-17% more. Furthermore, realtors are more likely to show a house that looks move-in ready.

Initial required consultation

I will tour your home from curb to the backyard, suggesting improvements that you can do to help sell if faster and educating you on maintaining the home while it's on the market.

This will include:
Choosing paint colors that are fresh and current, which compliment your home's permanent finishes.
Suggesting which pieces of furniture to keep, move or get new
Suggesting what to de-clutter or remove from walls
After the consultation, we can discuss if you wish to hire me to manage any of the improvements I suggested for your project.

Before our visit, I'll have you fill out a short survey
Are you looking for specific help with your project?

"Hard finishes"
Kitchen/bath tops and backsplash (selecting materials, color, design)
Plumbing fixtures (bathrooms, kitchens, laundry rooms)
Electric placement and lighting fixtures (recessed, hanging and table lights)
Interior finishes (flooring, carpet, tile, wood, stone)
Exterior finishes (brick, siding, roofing, entrances, doors)
Flooring finishes
Paint colors
Kitchen/bath cabinets (designing and shopping)
"Soft finishes"
Furniture (existing or purchasing new furniture)
Accessorizing (shopping, selecting and placing, existing or new)
Artwork (choosing new, or hanging your existing)
Wallpaper selection (Online or in-store shopping)
Window treatments (fabric, color, style and type)
Furniture re upholstery (shopping and selecting style, color, fabric, type)
Note: This option is only used to add on after required initial consultation

Before our visit, I'll have you fill out a short survey
What my customers are saying:

"Paula was such a pleasure to work with in helping me paint our whole house and decorate a few areas! She knew how hesitant I was in choosing too bold of colors, so she helped me pick out a few neutral colors that I absolutely love! I can interchange decorations all year and I'm so happy with how everything has turned out! She is aware of your budget and has a knack for picking out beautiful decor. I had such a fun time shopping with her, and, most importantly, she worked around my busy schedule to get what I wanted done in a timely manner. You will not be disappointed to have Paula help you with your household updates!!" -Jenni & Josh